Are you planning to settle in Mauritius and enjoy the dolce vita throughout the year or simply to make a real investment project? We have the product that will seduce you in the heart of Cap Marina. 
Beyond its ideal location within the sublime residence, Cap Marina, the Signature villa reveals many assets. It perfectly combines modernity and comfort, for a pleasant daily life. With a built area of 896 m2, built on a plot of more than 2300 m2, the luxury villa is decorated with contemporary architecture, sober and refined. Each and every villa is designed for daily comfort; the volumes and layout of the living spaces guarantee practicality and well-being. 
The interior of the Signature villa is endowed with several equipment chosen with the utmost care to guarantee you a quality home. With its 5 bedrooms and 7 bathrooms, the villa perfectly adapts to all lifestyles. Designed around the well-being of the occupants, the living rooms are both friendly and intimate.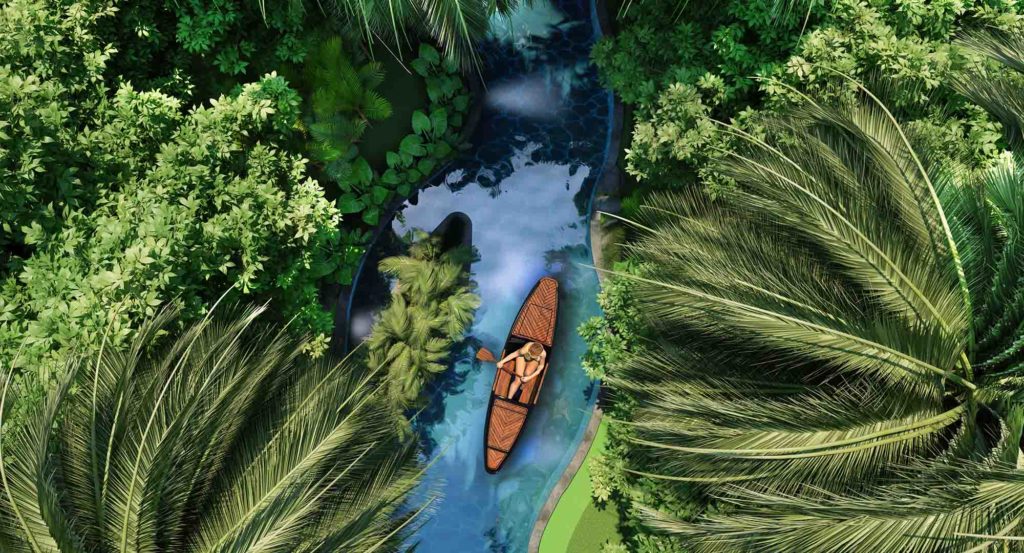 Large windows and bay windows are installed so that the rooms are naturally lit. Ideally designed, the Signature villa offers high quality services: cinema room, spa & sauna, gym and direct access to the canal. Several other options are available to buyers including a retractable television in the pool. Outside, you will enjoy a swimming pool of more than 190 m2 and a barbecue area, for pleasant moments of relaxation with family or friends. 
A residence with many assets 
Cap Marina is an exceptional residence. The estate promotes a pedestrian lifestyle with nearby amenities such as a pharmacy, a mini-market, a bakery and various shops. Other facilities are available to guests, including a swimming pool, gym, concierge, spa and children's club, just to name a few.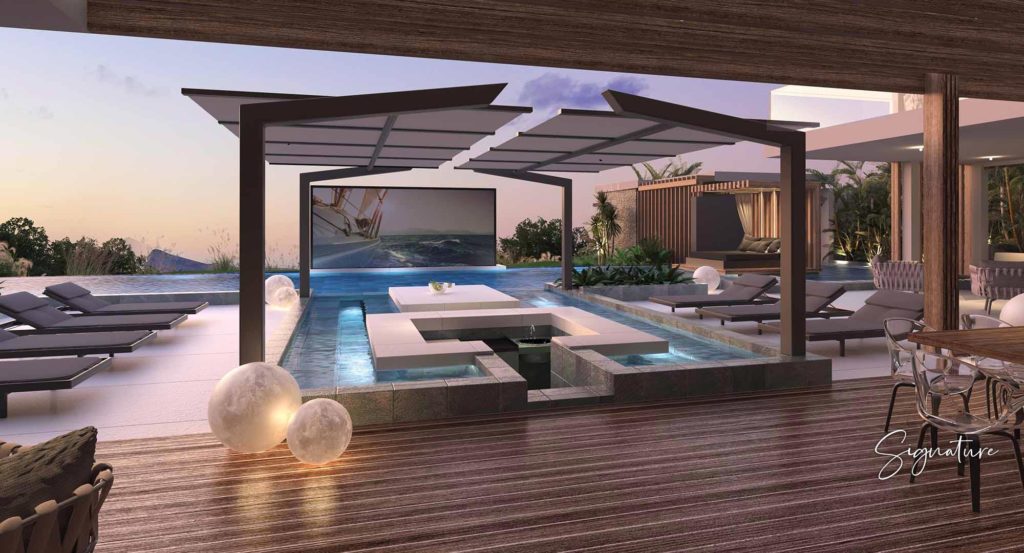 The architects of this huge project have put forth all possible efforts to create a very pleasant lifestyle within the residence. The owners of Villas Signature, ideally located, will have the opportunity to discover the beauty of the site to the rhythm of paddles on a sublime artificial stream surrounded by date trees and other tropical trees. Residents will have access to several kayaking facilities including the commercial area. Would you mind paddling for groceries? 
As for leisure, nothing has been left to chance. The estate will have a recreation area, consisting of two museums dedicated to the history of pirates in the Indian Ocean and the magnificent shells. Always under the sign of discovery and wonder, the residents of Cap Marina will be able to revive their taste buds in the various restaurants of the area, some of which specialize in local cuisine. Lets discover and enjoy the unique lifestyle of Cap Marina. 
The authentic charm of Cap Malheureux 
Surrounded by a fine sandy beach and surrounded by lush greenery, Cap Malheureux is nestled. This small fishing village is located near Grand Baie. A seaside resort renowned for its lifestyle and nightlife. Cap Marina is ideally located opposite the famous Chapel with the red roof of Notre Dame de l'Auxiliatrice with a breathtaking view of the Coin de Mire.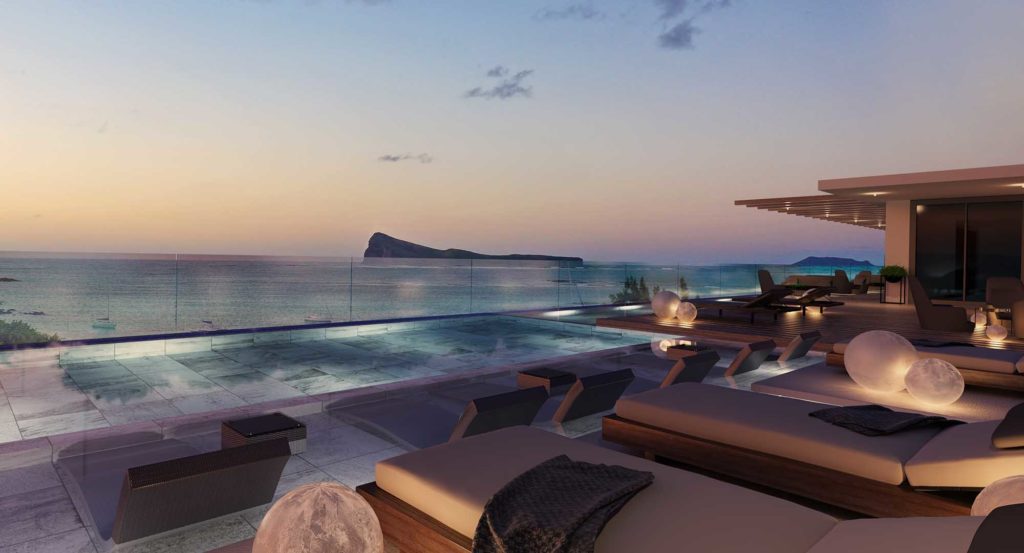 The location is very convenient for your daily life. There are many shops, restaurants and services nearby. Supermarkets, banks, pharmacies and medical offices are within a 10-minute walk. In Cap Marina, it is a pedestrian lifestyle that awaits you!
The northern region of Mauritius is known for being a pleasant place to live, thanks to the many facilities found there. From nursery to graduate studies, you will find internationally renowned schools. In terms of medical care, several private clinics have been set up there offering high-quality services.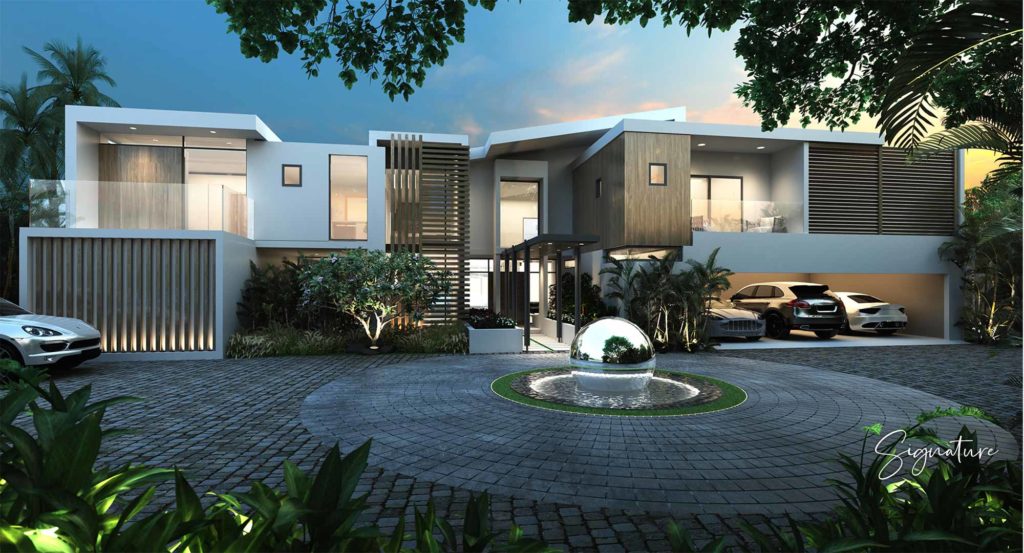 Cap Malheureux is full of exceptional places that honour the culture of the country. For water sports enthusiasts, this is the ideal place to stay. For your entertainment, several options are available: walks on the beach, shopping sessions in shopping centers or shopping streets, evenings in the typical restaurants of the region… Everyone will find something to suit them! 
Contact our sales team for more information on Signature Villas or other assets designed by Evaco Group. We remain at your disposal.